Vietnam
Tuesday, 31 March 2009 12:42
Registration for the 14th CONSAL General Conference is closed on March 31, 2009, the Organizing Committee of the 14th CONSAL General Conference annouced today. The General Conference will be held from April 21-23, 2009 at Melia Hotel, Hanoi, Vietnam, convening about 700 library and information professionals from ten ASEAN countries as well as China, Korea, Japan, Australia and the United States.
Singapore
Thursday, 19 March 2009 10:47
FOR over 40 years, Australian writer George Hicks travelled the world and amassed rare books for his own pleasure. Now he is hoping to share them with others, by donating all 4,480 items to the National Library.
Singapore
Thursday, 19 March 2009 10:44
THE threat of losing their borrowing privileges spurred some 160,000 library users to settle their unpaid fines and charges last month.
Singapore
Thursday, 19 March 2009 10:29
THE popularity of electronic books is rising in Singapore, buoyed by the availability of a variety of readers, from computers to smartphones to dedicated devices like Sony's e-Reader and Amazon's Kindle.
Vietnam
Friday, 06 February 2009 12:00
A free e-library has opened on www.thuvienonline.sachhay.com to get more people across the country better access to information, and building contact with other readers online. The library is part of a non-profit project www.sachhay.com launched by 70 Vietnamese individuals in co-operation with the National Institute of Directors.
Vietnam
Friday, 06 February 2009 11:58
The Ministry of Culture, Sports and Tourism presented a Certificate of Merit for Contributions to the Cause of Vietnamese Culture, Sports and Tourism to Dr. Judith Henchy from the University of Washington in the USA, and Director of the Southeast Asia Microfilm Project, for her great contribution to the development of libraries in Vietnam.
Vietnam
Monday, 02 February 2009 09:22
The Hanoi School of Public Health (Vietnam), the International Network for the Availability of Scientific Publications (UK) and the International Network for Online Resources and Materials (Sweden) are undertaking a joint national-level, intensive, capacity development and training programme on online information access and use for health sector librarians, researchers and professionals within Vietnamese universities with health focused programmes and research activities. The programme will run over three years from 2008-10 and is being supported with funding from Atlantic Philanthropies and the International Network for the Availability of Scientific Publications.
Singapore
Wednesday, 21 January 2009 17:05
A special home delivery service for physically challenged library members was launched by the National Library Board (NLB) today. This service, named Project Deliver Me, engages a group of volunteer cabbies - the CabbyCare Charity Group - to select and deliver library materials to the doorsteps of homebound people who are unable to visit the library because of an illness or a disability.
Vietnam
Tuesday, 20 January 2009 12:57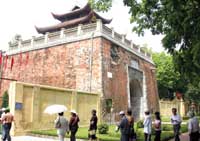 A project to build a library to store and preserve one thousand years of Thang Long culture has been built by Ha Noi Publishing House, said its director, Nguyen Khac Oanh.
Indonesia
Monday, 12 January 2009 21:02
With 1.54 million books and 1.3 million newspapers in its Jakarta collection, the National Library has more than enough on offer to keep the city's 12 million residents interested. However, its facilities are vastly underused: less than 15,000 people visited the library last year, and even fewer took out books.
Page 1 of 8